Simplify and accelerate enterprise integration.
SAP Integration Suite connects and contextualizes processes and data while enabling new content-rich applications to be assembled faster with less dependence on IT. Pre-built integration packs along with existing investments can be composed to deliver new outcomes with less involvement by integration experts.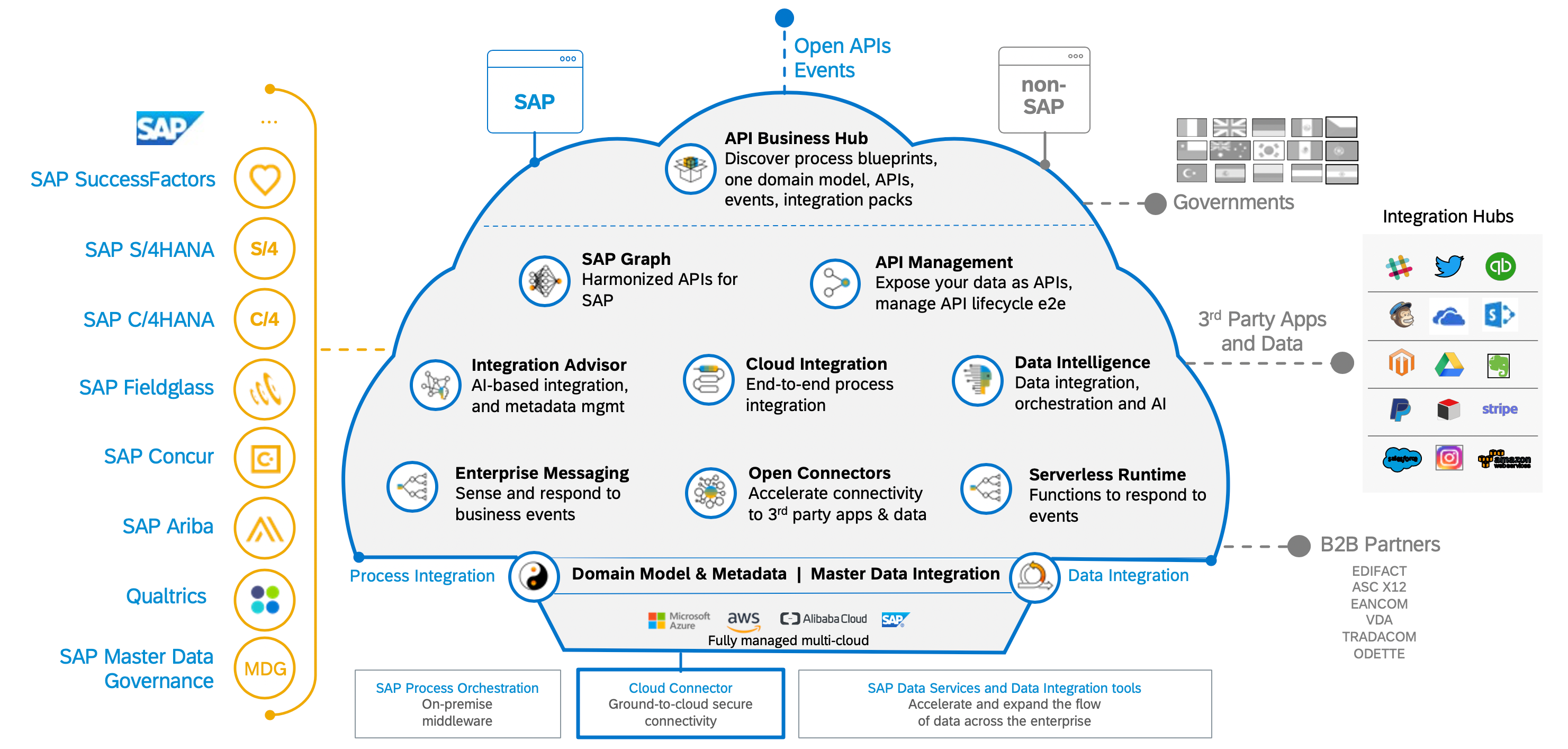 Supported Integration Scenarios ​
| Scenario | Description |
| --- | --- |
| Build Integration Scenarios | Discover, design, and operate scenarios for end-to-end process integration with Cloud Integration. |
| Manage APIs | Discover, design, and govern application programming interfaces (APIs) for API consumers with API Management. |
| Extend Non-SAP Connectivity | Connect to non-SAP cloud applications from your integration scenarios with Open Connectors. |
| Implement Interfaces and Mappings | Design interfaces and mappings using crowdsourcing and machine learning with Integration Advisor. |
| Mange Trading Partners | Design and operate business-to-business scenarios with Trading Partner Management. |
| Provide Integration Technology Guidance | Define, document, and govern your integration strategy powered by ISA-M with Integration Assessment. |
| Assess Migration Scenarios | Estimate the migration effort for SAP Process Orchestration scenarios with Migration Assessment. |
High-level use-cases ​
What is the Integration Suite?
The Integration Suite is a next-generation, modern cloud-native platform and compliments the on-premise process and data integration platforms such as SAP Process Orchestration and SAP Data Services portfolio of tools that our customers rely on.
Tools
Use-Cases
Cloud Integration (CPI)

End-to-end Process Integration (A2A) supported with out-of-the-box integration with 1400+ pre-built integrations delivered as Integration Packs
B2B/EDI Integrations accelerated by AI-driven integration tools such as Integration Advisor that simplifies managing EDI types and mappings
eGovernment (B2G) integrations through Integration packs to support digital regulatory compliance
Low-code API development tools (cloud-based graphical tools) to develop REST and OData APIs for customers

Integration Advisor (IA)

Support for metadata management – EDI Types, Mappings. Out-of-the-box B2B library with EDIFACT, UNEFACT EDI types
AI-based mapping proposals to accelerate trading partner onboarding through accelerated mappings

Open Connectors (OCN)

Simplifies 3rd party (non-SAP) connectivity through hub-based 1-to-many integration to many integration hubs such as CRM, ERP, Cloud Storage, Social, etc. with 160+ open connectors
Develop your own open connector with Connection Builder

Enterprise Messaging (EM)

Event-based Integrations with out-of-box events from S/4HANA, C/4HANA, and Successfactors

Data Intelligence (DI)

Data Integration and data pipelining scenarios. ETL scenarios for data lakes and data warehouses
Applying machine learning algorithms for data clustering, regression, and insights
DI also supports SAP Data Warehousing Cloud and SAP Analytics Cloud in data integration

API Management (APIM)

Full lifecycle management of enterprise APIs (design – develop – manage and engage with developers)
Support customers to launch their own API domains (api.customer.com) and run enterprise API programs.

SAP Graph ("BETA")

One harmonized API for SAP to simplify developing apps on top of SAP. APIs are harmonized based on the unified domain model

Master Data Integration (MDI)

Supports out-of-the-box master data integrations across SAP applications in the Intelligent Enterprise Suite

API Business Hub

SAP´s marketplace for process blueprints, domain models, Open APIs and Integration Packs
1500+ pre-built integrations, 1400+ APIs, 160+ open connectors
API Business Hub is connected to CPI, APIM and DI for customers to easily discover – configure and consume best practices content to accelerate integration projects
Support ​
| Component Name | Component Description |
| --- | --- |
| LOD-HCI-PI | Support component for this service |