Business Technology Platform ​
Accelerate business outcomes with integration, data to value, and extensibility.
What is SAP Business Technology Platform?
SAP Business Technology Platform (SAP BTP) brings together intelligent enterprise applications with database and data management, analytics, integration and extension capabilities into one platform for both cloud and hybrid environments, including hundreds of pre-built integrations for SAP and third-party applications.
Why choose SAP BTP as your business technology platform? ​
SAP BTP provides the flexibility and independence you need by delivering technology to move assets to the cloud, integrate the IT landscape, and configure and extend SAP and third-party applications.
| Reason | Description |
| --- | --- |
| Connected business processes | Optimize processes that cross lines of business and achieve competitive differentiation with SAP BTP embedded in SAP applications. |
| Multi-cloud openness | Run SAP BTP in any hyperscaler cloud environment for flexibility and customer choice. |
| Extensive partner ecosystem | Choose from 15,000 partners across 25 industries to meet the needs of your business. |
| Rapid implementation and fast time to value | Go live quickly, reduce the payback period, monetize investments, and fund subsequent high-value use cases. |
Application Development and Integration ​
Simplify application development, accelerate integration, and expand business value across your intelligent enterprise. Seamlessly connect and enhance your applications, automate business processes, and deliver personalized experiences. Meet the unique needs of your business and drive business outcomes on an extensible technology platform.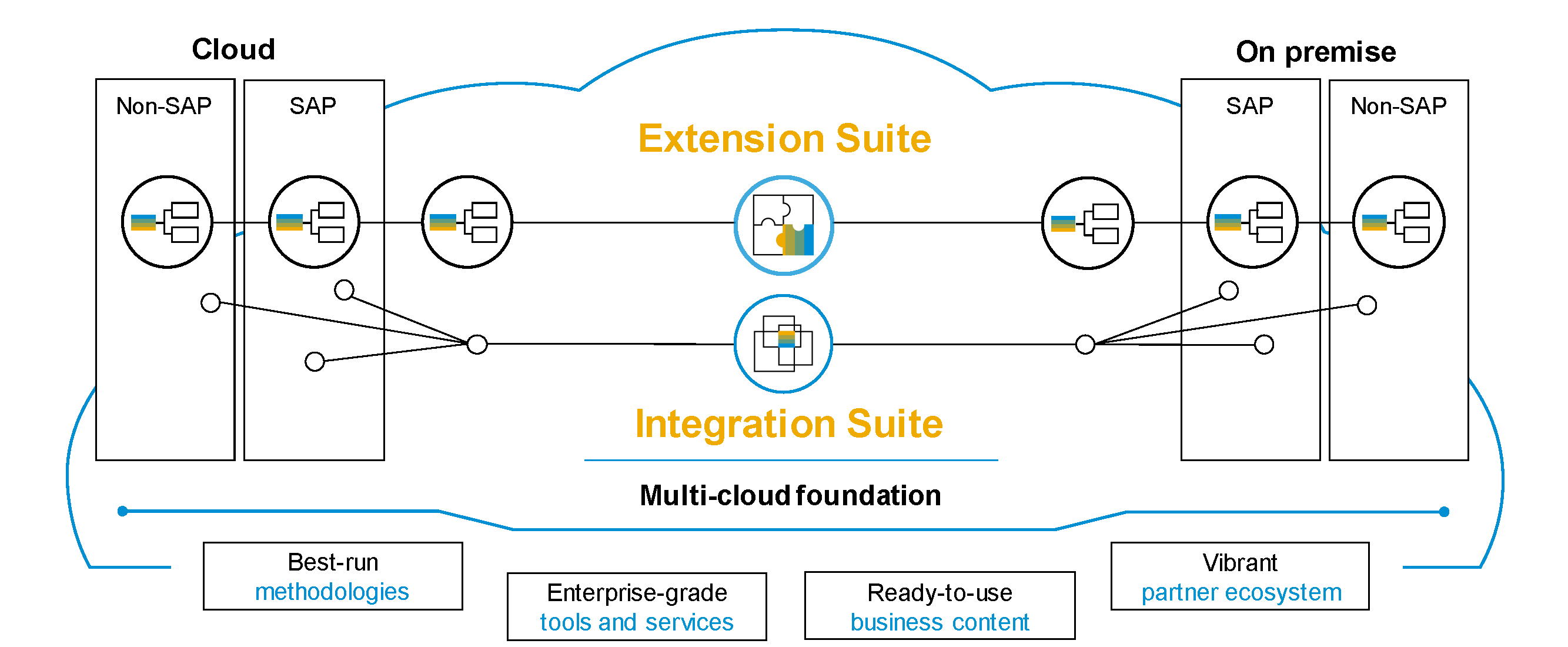 SAP Extension Suite, powering SAP Business Technology Platform, is the best path to rapidly build and enhance enterprise applications, processes, and experiences.
Extend the value of business applications, while staying flexible and agile:
Simplify your cloud application development to get more value and ignite innovation
Deliver agile process automation to automate and optimize processes and tasks SAP Workflow Management
Connect people, data, and processes with engaging experiences SAP Cloud Platform Launchpad
SAP Integration Suite is an integration platform as a service (iPaaS) that allows you to seamlessly integrate on-premise and cloud-based applications and processes with tools and prebuilt content managed by SAP.
Application integration:
AI-enabled cloud and hybrid integration development (eg. AI Data Intelligence, Leonardo)
Prebuilt integrations managed and updated by SAP
Harmonized access to popular third-party cloud applications
Ability to design, publish, and manage APIs
The integration layer powering SAP Business Technology Platform
SAP Event Mesh